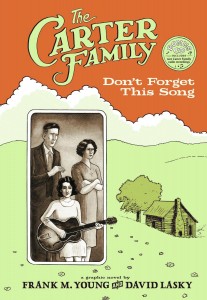 David Lasky and Frank Young met with Cartoonists Northwest in January to describe the long and winding road that led to the publication of their graphic novel, The Carter Family: Don't Forget This Song. David Lasky discovered the music of the Carters, the Virginian natives who brought country music to the masses in the 1920s, while watching a documentary.
While discussing the idea of working on a project together, Frank Young dreamed that he found a cache of old newspaper comics written about the Carters. The collaborators took inspiration from the golden age of comic strips like "Gasoline Alley" and "Little Orphan Annie" as they formulated their plan to illustrate the highs and lows of the pioneer singing group.
One of their greatest challenges was conveying the power of the Carters' music in a comic book format. This was complicated by the fact that, as they learned along the way, many of the song lyrics were not in the public domain. David used a combination of lyrical snippets, color and artistic symbolism to recreate the emotion of the music. Good fortune turned up a series of radio broadcasts they were able to include on a CD that accompanies the book.
Though Lasky and Young stayed true to their extensive research, they were happy to discover that the Carters' story had plenty of humor and compelling drama. A.P., Sara and Maybelle recorded over 300 songs and sold over a million records while family difficulties played out in the background that the public never saw.
Since publication their book has enjoyed plenty of critical success, with interviews, speaking engagements and a mention in Time Magazine. But while looking for this one, don't forget to pick up the graphic novel they published while they were working on it, Oregon Trail: The Road to Destiny.
You can follow any responses to this entry through the RSS 2.0 You can leave a response, or trackback.