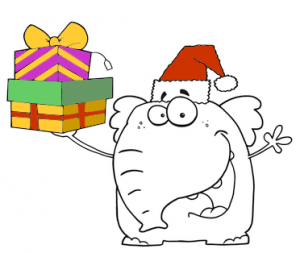 Our December CNW meeting will be our annual Holiday Party & White Elephant Gift Exchange!
  It all begins at 
6pm
, on  
Saturday Dec 17th
, at 
Tutta Bella in Wallingford
 (where we had our holiday parties in the past) 
4411 Stone Way North in Seattle
.
Please RSVP to CartoonistsNW@aol.com
 if you plan on going, as we need a head count to make the reservation.
We'll play at least one drawing game, so be prepared to draw and be silly.
The other highlight of the evening (besides dinner and some great conversation) is the gift exchange.
Here are the gift exchange rules: Bring your wrapped (but not labeled) gift and place it in "the pile." Gifts should be inexpensive, humorous items or used items from home.
All participants draw a number from a hat. The participant with #1 unwraps any gift from the pile and then shows it to everyone. Each successive participant can either A) "steal" an already opened gift, or B) be adventurous and pick out a new, wrapped gift from the pile.
If the participant chooses to steal, the person whose gift is stolen now repeats their turn and either A)
steals another person's gift (They can't immediately steal back the gift which was just stolen from them), or B) unwraps a new gift.
This cycle of stealing continues until a new gift is chosen, at which point the turn is passed to the participant with the next number from the drawing.
Since items can be stolen, the item in your possession is not yours until the game is over. However, a gift is declared "safe" after it has been stolen three times. A food item may not be eaten until the game is over or the item is determined to be "safe."
Come join the fun and wish your cartooning colleagues "Happy Holidays."