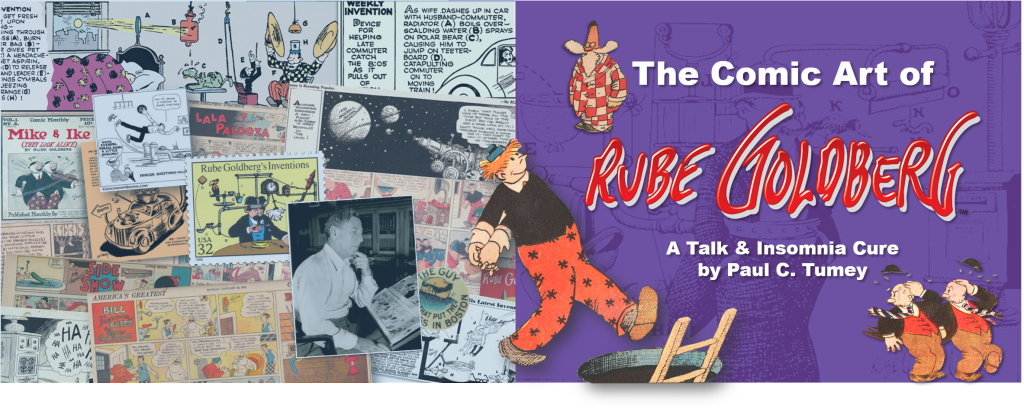 Come learn all about the father of screwball comics and one of the 20th century's premier cartoonists. In conjunction with the premier of THE ART OF RUBE GOLDBERG at the Seattle Museum of Popular Culture (MoPOP, formerly the EMP) through April 23, Comics historian and author Paul C. Tumey will present a sixty-minute slide lecture on the life and career of Rube Goldberg.
           Rube Goldberg (1883-1970) had a sixty-two year career as a cartoonist and humorist, from 1904-1962. He estimated he produced over 50,000 cartoons for publication. In the 1920s, Goldberg was the most popular newspaper cartoonist in America, famous for his "grotesque" style of caricature, and his screwball sense of humor, which directly influenced artists who would later create the Dadaist art movement.
           Unlike most syndicated cartoonists who work for years with one concept and set of characters, Goldberg created something new virtually every day. He created over 100 different comic strip series, which he rotated randomly among thousands of one-shot newspaper comics. In 1907, he started a new series called "Foolish Questions," which became a national hit. In 1912, he created the first of his invention cartoons, depicting ridiculously complex chain reactions designed to accomplish a trivial task, like licking a stamp, or opening a door. In 1918, he launched his popular Sunday comic, Boob McNutt, which ran until 1934.
            In 1939, after creating humor cartoons for 35 years, Goldberg embarked on a second career as a Pulitzer-Prize winning political cartoonist. He co-founded the National Cartoonist Society, whose award, the Reuben, is named after — and designed by — him. Today, Goldberg is famous for his invention cartoons, but they comprise only about 2% of his output, most of which has not been reprinted or studied until now. His work, which influenced generations of famous cartoonists, remains a lost treasure of American comic art and humor.
            Paul C. Tumey has spent years researching Rube Goldberg. Drawing on his archives, and special access to unpublished material from the Goldberg estate, Tumey will display rare art, recordings and videos that will tell the story of the remarkable life and times of one of the greatest cartoonists in history.
++++++++++
Paul Tumey is a writer/designer living in Seattle, WA. His work appears in numerous books and magazines, including SOCIETY IS NIX: GELLEFUL ANARCHY AT THE DAWN OF THE NEWSPAPER COMIC STRIP 1895-1915 (Sunday Press, 2014) and KING OF THE COMICS: 100 YEARS OF KING FEATURES (IDW, 2015). He writes a column, FRAMED! for The Comics Journal and regularly attends the DUNE anthology jam at the Cafe Racer. In 2014, Tumey was the co-editor and primary writer for THE ART OF RUBE GOLDBERG (Abrams ComicArts), and he recently co-edited and wrote for the forthcoming book FOOLISH QUESTIONS AND OTHER ODD OBSERVATIONS BY RUBE GOLDBERG (Sunday Press, May 2017). For the MoPOP exhibit, Tumey worked with the museum to create the introductory video that welcomes visitors at the entrance of the galleries. Tumey is currently at work on his book, SCREWBALL! THE CARTOONISTS WHO MADE THE FUNNIES FUNNY, due out from IDW's Library of American Comics in 2018.