Cartoonists Northwest presents the 25th Annual Golden Toonie™ Award!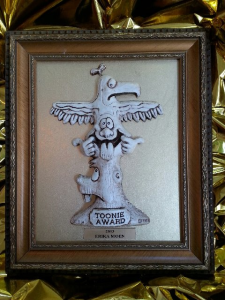 Seattle cartoonist Brian Basset is our special guest speaker for the Toonie™ Award Banquet to be held at China Harbor Restaurant on Lake Union on Saturday, April 30th, 2016.  Social hour/no host bar begins at 6:00 p.m., dinner is at 7:00 p.m.
Awards will be presented after dinner, followed by a chat with Brian Basset, the creator of the syndicated cartoon strip Red and Rover.  Brian previously worked as editorial cartoonist for the Seattle Times (1978-1994), and is also the creator of the syndicated comic strip Adam, later changed to Adam@home (1984-2009). Brian has been with Cartoonist Northwest almost since its inception. In fact, he hosted some of our meetings at his home years ago.
Also included in events of the evening is:
Our popular Clay Contest – where creations are made during dinner and the favorite is voted on
A Silent Auction – where you can bid on original comic strips, art books, memorabilia and everything in between (begins at 6:00 p.m.)
The price for dinner is $30 per person, and covers an array of asian meal options served family style.
To register, send payment to: Cartoonists Northwest, PO Box 31122, Seattle WA 98103.
Or e-mail your reservation to CartoonistsNW@aol.com and include your name, phone number, and number of guests.
Register for the Toonies by April 25 or call 206.369.2123. Limited space available. No shows will not receive a refund. Persons who show up without a reservation will be seated on a space available basis and will be charged an additional $5 at the door. For more info see CartoonistsNorthwest.com
---
The Toonie Awards were started in 1991 to honor the achievements of cartoonists who have ties to the Pacific Northwest. Winners are selected from the hundreds of email and paper ballots submitted by Cartoonists Northwest members and those individuals who receive the monthly publication of Penstuff.
Golden Toonie Award Winners

2015 Nina Laden
2014 Erika Moen
2013 Scott Kurtz
2012 David Lasky and Frank Young
2011 T Lewis and Shannon Wheeler (tie)
2010 Keith Curtis
2009 Kevin Boze and Mark Monlux (tie)
2008 David Lasky
2007 Pat Moriarity
2006 Sherry Flenniken
2005 Peter Bagge
2004 Rick Hoberg
2003 Kevin Brockschmidt
2002 Jeff Willis
2001 Ellen Forney
2000 John Lustig
1999 Jim Woodring
1998 Roberta Gregory
1997 Art Bouthillier
1996 Donna Barr and Peter Oakley (tie)
1995 Lynn Johnston
1994 Brian Basset
1993 Berkeley Breathed
1992 David Horsey
1991 George Jartos
1991 Steve Greenberg

Toonies Recaps

Toonies 2005
Toonies 2006
Toonies 2007
Toonies 2008
Toonies 2010
Toonies 2011